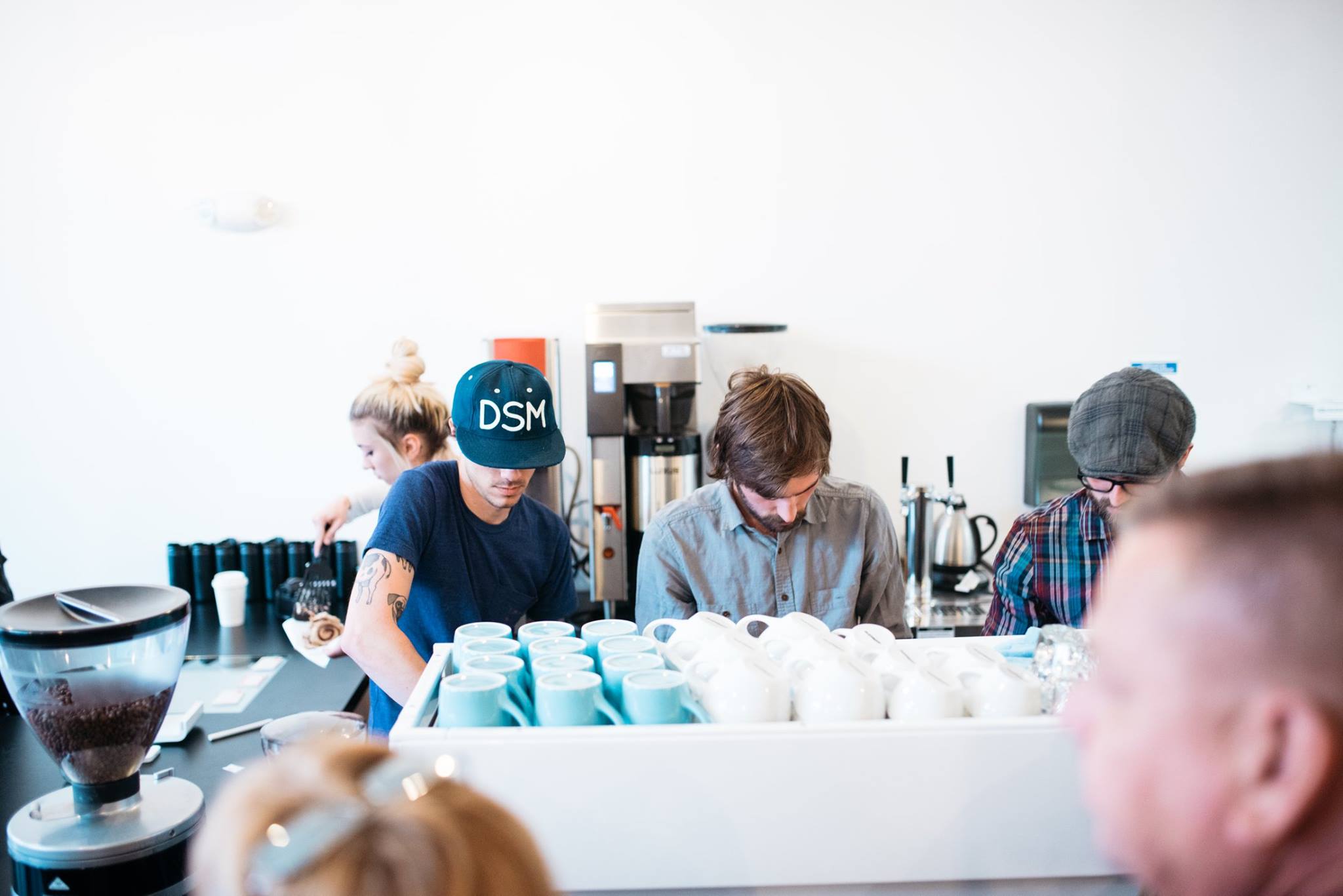 Horizon Line hasn't even been open for three months and it's already a staple of the community. But who are the guys behind it and is it true they moved all the way from California to open up the shop? Say hello to Brad and Nam.
p.s. I'm already addicted to their iced matcha latte with an extra pump of vanilla. you're welcome.
Nam: When people hear that Brad and I have opened a coffee shop, I think they assume we've both been working in coffee for a long, long time, but this has been sort of a recent interest. Around four years ago I was looking for a creative outlet and became interested in coffee because of the people I'd met who were working in the industry there in California. They really seemed to enjoy what they were doing. I ended up volunteering at Restoration Roasters in Corona and through them received a lot of hands on experience within the industry.
When Brad brought up his idea of opening up a shop, I was all for it. We both have very similar philosophies when it comes to things like customer service and customer experience, so I didn't feel any hesitation in joining. It hasn't been easy, but I've enjoyed having to learn so many things so quickly. It has been interesting, especially with stuff like the loan process. (Laughing)
We've found that our passion has kept us focused and I think people recognize that and that's what keeps them coming back. I dropped everything to move here with Brad (and his wife, Lauren) and the passion we've had for this project made the risk worth it. It's paid off.
Brad: My introduction to coffee was slightly different than Nam's. I was nearing the end of grad school and realized that both working and going to school full-time didn't leave me with enough free time to compete in doctoral programs. So I began asking myself what is something I've always longed to do?
Four years ago, neither one of us were involved in third wave coffee, but we both wanted to be involved in shaping the community. I often found myself having these very nice conversations with local baristas and realized that coffee was a good avenue for community development. I signed up for a roasting apprenticeship, started working as a barista at different shops, and began to learn about the industry.
Nam and I complement one another really well. Sometimes there will be a project that I just want to get done, but Nam will take extra time and add some much needed finesse. Its helped HLC to have someone big picture and to also have someone more focused on the smaller, day-to-day things.
Nam: The most frequently asked question so far has been why did we come to Des Moines? (Laughing)
Obviously, affordability was a huge factor for us both. Personally, I don't think we could've pulled something like this off if we were in Los Angeles. Even if we could have done something similar, we couldn't have done it as quickly as we did in Des Moines.
The culture of the Midwest was a big draw, too. I'm more of a slower paced type of person and I didn't want to be in an environment where we were expected to get people in and out in sixty seconds. I wanted time to get to know the people supporting us, learning their names and their orders. That type of personal connection with our customers was important to us both from the very beginning.
Brad: During some of our early research, we stumbled upon that Forbes article that said Des Moines was a great place for young professionals and that drew us in, for sure.
We also wanted to be in a place where we could grow professionally and personally. Landing somewhere where we could come along side peoply was really attractive to us. We've enjoyed becoming friends with people around town, like the guys over at Mars. People will say Des Moines finally has good coffee and I'm like Mars has been freakin' trailblazing for years. Des Moines has had good coffee long before we came here.
Like Nam said earlier, we want to make the transactions personal. If you're coming here and supporting us, we want to become friends with you. That's why we make such a concerted effort to learn people's names - it's the least we can do. The support we've had here so far has been overwhelming. People are definitely living up to that kind, gracious Midwestern stereotype. (Laughing)